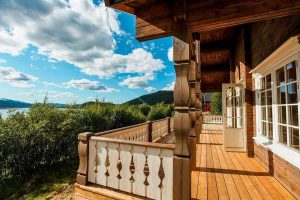 A home is the core point around which all our life's events are happening. That's why we  give the priority to create a comfortable and healthy living environment for ourselves.
Renewable energy and ecology has become important issues in reaching a synthesis of human activities and nature. Housing development must also reach these criteria.  Therefore, there are four main qualities the house where we live must have: ecology, economy, health and safety.
Our company could offer  your  two types of logs houses: machine processed and hand  made.
Manually processed log houses reveal the beauty of each log and preserve all that nature gave to every tree. These log houses primarily display all the advantages of wooden houses:
Line Eco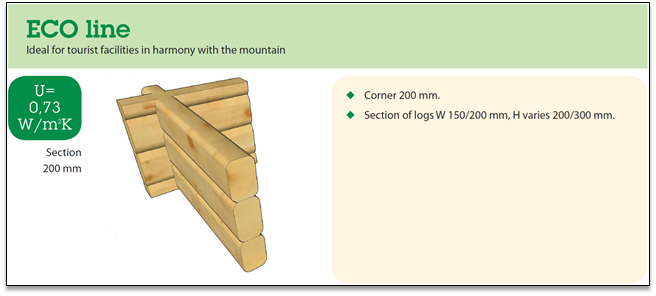 Line Natural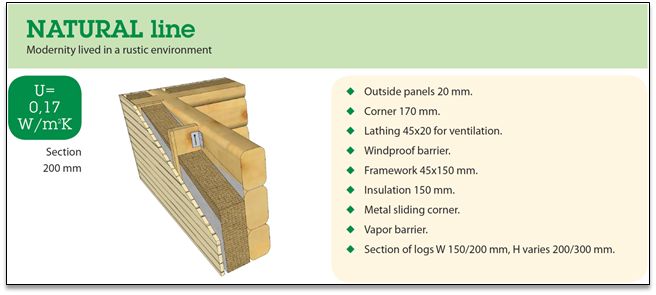 Logs of even thickness are used when manufacturing and assembling the house, but the height of each log stays natural. It is precisely fitted to the elements above and beneath it, so the log is tailored for that spot only. We build log houses using time-tested Scandinavian technologies. The logs are manually cut from two sides so the walls are of even width – from 150 to 200 mm – then the bark is taken off. The logs cut this way preserve their uniqueness because only the sides are evened and the height of the log is kept as nature created it.
The logs are then dried up to an average of 18% humidity in a timber dryer. The drying process is strictly controlled
The logs are planed down, smoothed and made ready for construction at the factory. The house is constructed at the plant as well. Each log is individually adjusted to the neighboring ones so all elements of the house fit their place ideally. When manufacturing log houses we can cut out all technological holes needed in the logs for electrical, piping and other system installation according to the agreed project.
When preparing logs manually we try to conserve the uniqueness of each log. The purpose of machine processing is to cut the logs as smooth and even as possible. This way a totally different effect is achieved as the log house looks especially ordered, more "civilized" and better suits the modern interiors.
The thickness of machine processed logs is 45 mm up to 140 mm so it is recommended to additionally insulate them when building a residential log house. Depending on the purpose of the log house you can choose the insulation solution that best suits your needs. Therefore we mark out 4 construction line of machien made log houses:
Garden line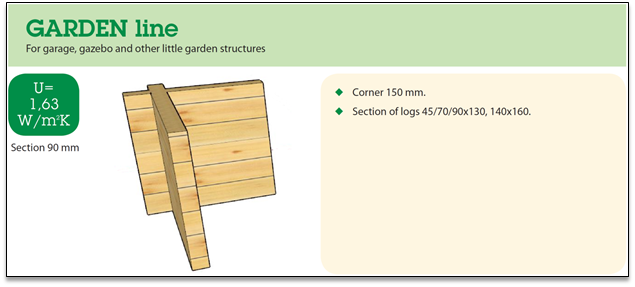 Machine processed logs without additional insulation is the best choice for a log garden house, summerhouse, hunting lodge, arbour and other non-residential building. Machine processed log houses are cheaper than manually processed
Living line / Residence line
Machine processed logs can be insulated from inside or outside. First, a wooden framework is attached to the log wall, then a wall panel with finishing (inner or outer) is attached to the framework and the gap between the panel and the log is filled with isolation material. A log house insulated in this way corresponds to all the requirements for thermal resistance of residential buildings so it can be used as a permanent residence or a building of any other type. These houses give you the possibility to constantly renew your home by changing the interior or exterior finishing details and materials.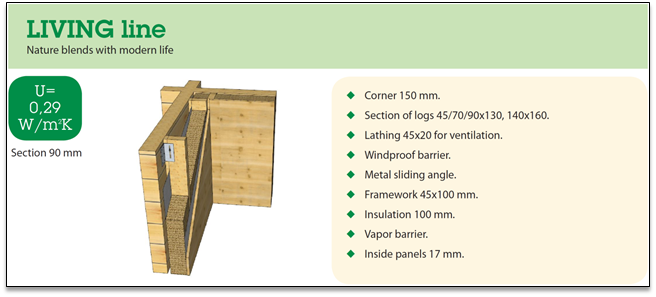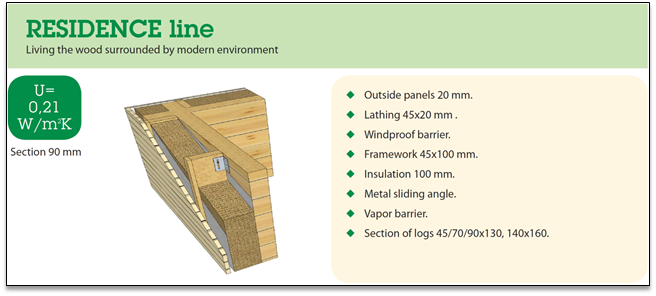 Double line
This is an ideal choice if you're looking for a warm log house and wish to preserve its unique characteristics. This is the warmest and most eco-friendly log house, so it's best suited for residential buildings.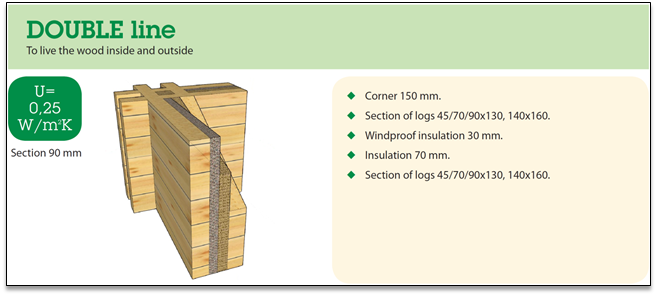 A machine processed log house opens up more possibilities to customize the exterior and interior, since the logs can be covered on the inside or outside. Inother words, you can have your dream home with all the advantages that a log house provides.
We can offer log houses according to your needs. Our job is to turn your dream into house. We combine the most modern technologies long-lived experience of this craft and traditions of various countries.
We build a wide variety of wooden houses – we can offer manually processed timber log buildings that are build especially quickly and are durable. Because we don't have set manufacturing lines and build every house separately, you can decide how every details of your home should look like.
The style of your house depends on your requirements.  If the client have not a drawing ready yet, we offer possibility to work together to visualize the shape of his house according to his wishes.